The project manager: Building on successes requires a disciplined worker, someone who is organized, thorough and systematic. This is the person that will pull old lists, order them by value and assign contact people for each name and check-in to make sure the work is getting done. She will also plod through dozens of phone calls per day, keeping close track of results.

The evangelist: Breaking open new major gift relationships requires a hunter gatherer, someone who is a master relationship builder who loves the thrill of the chase AND loves people AND loves your mission. Whew! If you've got one with all those attributes who can also close a gift, hold on to them no matter how much unmanageability their sloppiness and high energy level causes. This person will drive your accounting department nuts but everyone in the field will love them. They will make your professional life hectic, exciting and funded (at least this year).

The chief development officer: Building an integrated program requires a wise professional who can strategically assemble the component parts of a well-balanced system so that you can continually acquire new donors through multiple channels and grow existing donors up a pipeline with increasingly customized communications as their annual giving level grows. This is the kind of person who will be thinking about the 20 or 30 year value of donor relationships. This is ideal, assuming you've got this year's bottom line covered.

If you could only hire one of these, which would it be?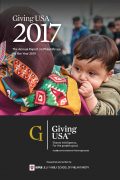 The conversation was still on my mind yesterday morning when I attended a panel discussion hosted by consulting firm CCS Fundraising and hosted by National Public Radio at their beautiful Washington, DC headquarters. The program featured a top line report on this year's Giving USA report on philanthropy in America, presented by CCS's Luke Driscoll and followed by an insightful discussion. Moderated by Linda Cameron (also of CCS), the panel included Donald Dunn, Senior Director of Development at Georgetown Lombardi Cancer Center; Tara Dwyer-Arras, Chief Development Officer at Catholic Charities of Washington; Jason Lee, Interim CEO at Association of Fundraising Professionals (AFP); and Stephanie Witte, Chief Development officer at NPR. I attended the session because I had the privilege of learning from people associated with Giving USA's annual report when I was in graduate school at the Indiana University Lilly Family School of Philanthropy, and I have so much respect for the work they do. It was especially stimulating to hear how senior colleagues in the trenches process and integrate this valuable annual publication (which you can purchase online). Thank you to all who made the event possible.

During the presentation I got to thinking about my colleague's hiring dilemma. It occurred to me that fundraising is such a different animal in different contexts. When considering who you want to hire in that top development slot, lots of factors come into play. Do you have a full development staff with well-differentiated roles? How big is your organization? How much a part of your annual revenue comes from fundraising as opposed to fee for service income, operating grants/contracts or endowment income? How well does your current team do at balancing short term needs for revenue with long term investments in lifetime donor value? What is the team like that the person will work within or supervise? These are all important questions to think about when crafting a development position for your organization.

The sooner organizational leaders do what Mr. Lee of AFP emphasized, and recognize fundraising as the multifaceted, complex field it is, the better prepared we will be to hire the right professionals for our unique circumstances. Moreover, if we can parse out the three personality types listed above and find ways to balance and integrate them among our team members, we just may find that elusive three-part harmony of fundraising after all.

Several organizations I am in close touch with are currently searching for senior development professionals. One executive director with whom I'm especially close was bemoaning how hard it is to find good fundraising staff. "It's simple," I leaned across my desk and said, almost annoyed. "You just need someone who can build on your successes, bring in new major donors and turn your hodgepodge of activities into an integrated program!" We both burst out laughing. Of course develpoment IS that simple, but what's simple in words can be impossible in deed. It is not easy to find a single professional who appreciates the need for – let alone has the characteristics to accomplish – those three very different assignments. We talked about this a little further: